The Markets Keep Rising While Employment Keeps Slipping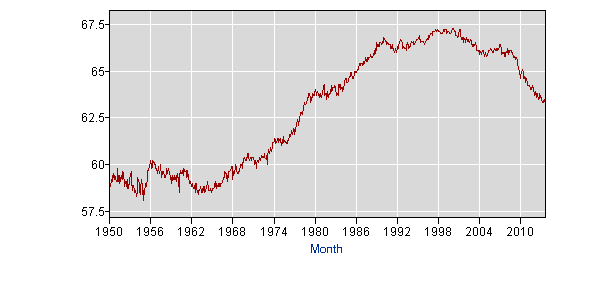 October 24, 2013
This chart shows that since 2000, labor force participation has been in a steady decline. We are currently back to 1980 levels. A month ago in September, over 11 million Americans were considered unemployed, but an even more astounding 90,609,000 Americans were actually considered to be "out" of the labor force. That's 101 million Americans not working.
The current duration of unemployment is also shocking. It's been between 35 and 40 weeks, amost 4 times its average in 2000.
In spite of the hard times for millions of Americans, the markets keep rising. It proves the disconnect between what people believe markets should do, versus what they really do.
That disconnect isn't about the economy per se, rather, it's actually about how institutions invest. Right now, they are choosing to keep money invested in the markets instead of guaranteed instruments like Treasuries. Why? Because they feel the potential to earn more on their money in the stock markets is still worth the risk compared to earning a couple of percent in the safety of Treasuries.
Pretty simple actually. Would you rather take the risk and earn 10-20% on your money, or be guaranteed 2.5% over the next year. That risk has historically paid off until the rate of return on Treasuries tops 5-6%. That's when institutional money will move from the stock market into guaranteed return instruments.
Not sure about the premise? Then look back at where rates were in 2008, just ahead of the bear market crash. Do the same thing for 2000. In both instances, Fed Funds rates rose over the 5-6% threshold. Look back farther, you'll see the same thing.
So while there are all kinds of numbers that might get you worried about where you should be right now, the market is still where instituional traders are going to stay...at least until rates start to rise again.
Please reload